KINEMASTIK 9th INTERNATIONAL SHORT FILM FESTIVAL 2013
One of Malta's most anticipated summer events, 9th Kinemastik International Short Film Festival (KISFF) will take place on Friday 26th and Saturday 27th July. This year KISFF we will have a new venue and a hypno screen in Valletta's beautiful fishing village overlooking the Grand Harbour. A magical night with Kinemastik is guaranteed when selected local and international short films will compete for the highly sought after Jury prize, the Kinemastik Golden Dot and the Audience Award. 
As part of 9th KISFF, we will present a selection of latest shorts for kids at our Children's Short Film Fest, that had, for the first time, a sign language interpretation for Deaf and Hard of Hearing.

For adult audiences, we will exclusively premiere a new film by London based artist Robert Rubbish, titled One Eyed Man in the Kingdom of the Blind.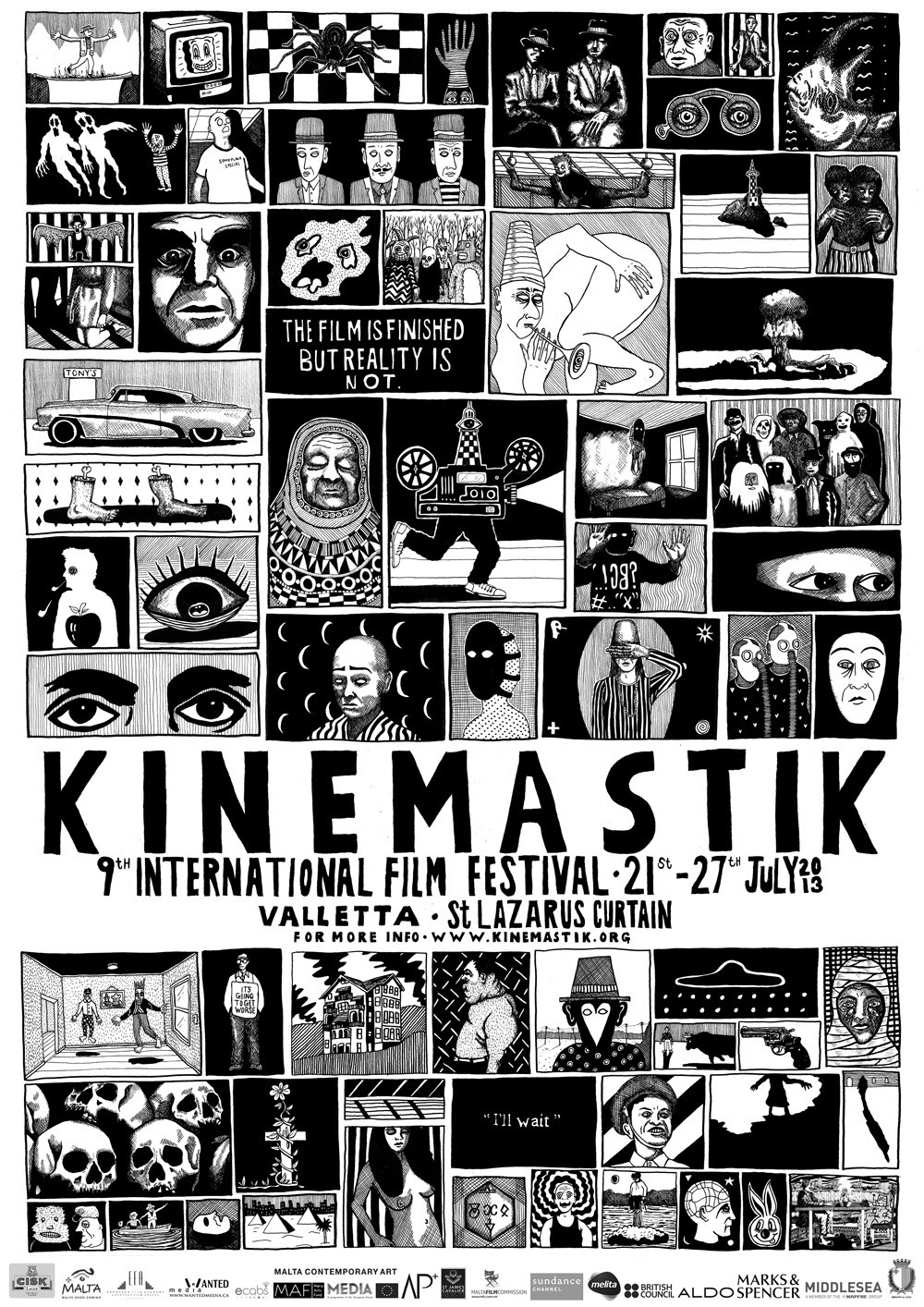 The most exclusive guest at this year's festival will certainly be Mr Eduardo Williams, from Buenos Aires, whose films have won awards on all 4 corners of the planet. His retrospective will be hosted at the Fish Market in Valletta.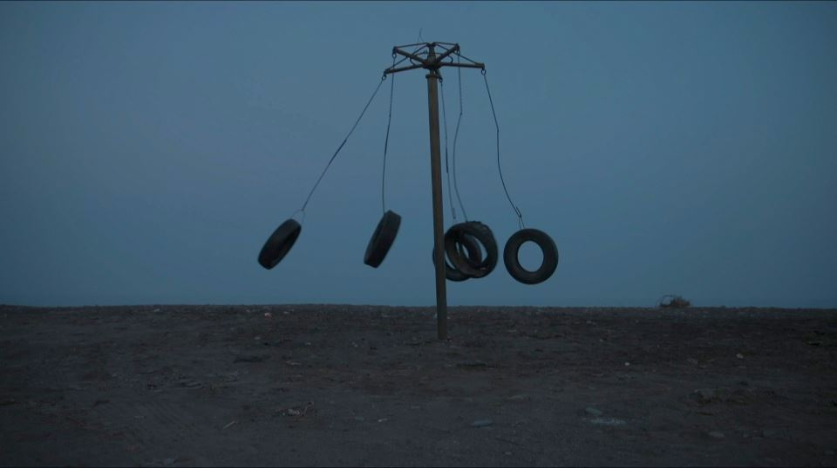 Sunday 21st
Little Rock People is Kinemastik's Children Film Festival that was founded in 2009 to promote intelligent, passionate, provocative cinematic works for ages 3-18 and to help define a more compelling film experience for kids. Since its launch, the event is the only short film festival for children and teens in Malta, with an audience of over 250 attending the most recent event. Find out more about 2013 and all other Little Rock Years over at www.littlerockpeople.com.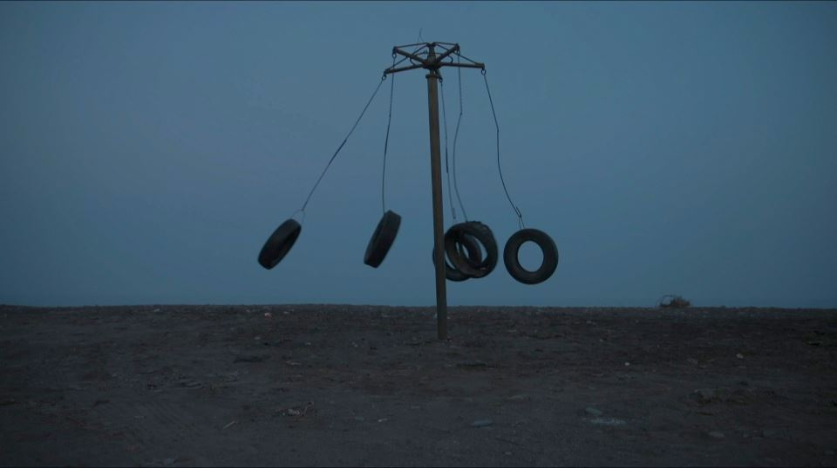 Tuesday 23rd July
One Eyed Man in the Kingdom of the Blind
Cafe Riche, Sally Port, Valletta.
On Tuesday, 23rd July 2013, as part of its 9th KISFF, Kinemastik will premiere a 45 minutes film by Robert Rubbish – One Eyed Man in The Kingdom Of The Blind – a neo-noir psycho-geographical detective story set in Jersey and London. 
Once you take that road that circles around Valletta, that is overlooking Manoel Island, turn right as soon as the big bastion walls end. There s a traffic light there saying something about some street being open or closed. Rest not, but take another sharp turn to the right under the tunnel into the port called Marsamxetto. Down the hill and almost into the sea, turn right at its bottom. Drive over those speed bumps until your eyeballs get levelled, keep going straight until you come to the tunnel on the right. If you dare look through it, you ll see Due Balli. Do not go through that tunnel but keep going straight, sea still on your left, and through the humid air, you ll see a green mist that appears to be a bar. Look up, it says tourists are welcome. Be careful in there. 
Entrance is free.
Film synopsis:
Cormac O'Connell; a Soho based detective is hired by a widow to retrieve information from a mysterious one eyed man who resides in the island of Jersey.
Cormac travels to Jersey and so begins a pscyho-geographical odyssey in the quest to find the one eyed man and unlock the code.
About the director:
Robert Greene aka Robert Rubbish is a London based artist and co-founder of Le Gun magazine. For the last couple of years, he s been taking his art into the medium of film and video as he felt was a natural progression to his narrative based art.
Eduardo Teddy Williams at KISFF 2013
Eduardo Teddy Williams was born in Buenos Aires in 1987. 
He has won awards at Cannes, St Petersburg Film Fest, Rome Film Festival, Buenos Aires Independent Film Fest etc.
Eduardo Williams' films are sometimes described as enigmatic, for his abilities of an imaginative and cinematic trip deeper and beyond the limits of conventional realism.
Kinemastik, an organisation that has a thing for the surreal, would like to draw attention to the public, so please, leap yourself into the future and there you ll see that our beloved Fish Market – Pixkerija, is now a boutique hotel, that Eduardo Williams has shot another eclectic feature film with Tilda Swinton, then jump back into a present day, buckle up, get yourself to the edge of the Grand Harbour and have a look at this big fish, called Eduardo Teddy Williams.
Eduardo Teddy Williams will be presenting his works on the 24th July 2013 at the Fish Market – Pixkerija at 21:00h as part of 9th Kinemastik International Short Film Festival.
The films shown:
El ruido de las estrellas me aturde.
A guy looking for a cyber world gets hit by strong waves. A group of friends live surrounded by lots of things, work, walk, talk in different places but you never know where they are. An ant walks among them as they want that no more idols.
Que je Tombe tout le Temps?
Searching for a seed, a young man emerges from the underground where he hangs out with his friends. They all embark on a long digestive trip.
Pude ver un puma– fiction
The accident leads a group of young boys from the high roofs of their neighborhood, passing through its destruction, to the deepest of the earth
SATURDAY 27TH
Another day another sunset to welcome the start of day two of our screenings. This evenings we were excellently soundtracked by jury member Glen Mcleod until the films began.
Both halves of the programme contained winners, with the official jury selection and winner of The Golden Dot trophy Trapped In The City of a Thousand Mountains by David Verbeek in the first half. This was follwed after the intermission by local director Fabrizio Ellul's Filfla – winner of the audience award.
The rest of the evenings proceedings were begun by a live perfoirmance from Fattima Mahdi, followed by DJ's Nigel Baldachino, Steph VR, Lucie Grace and Uncle Al.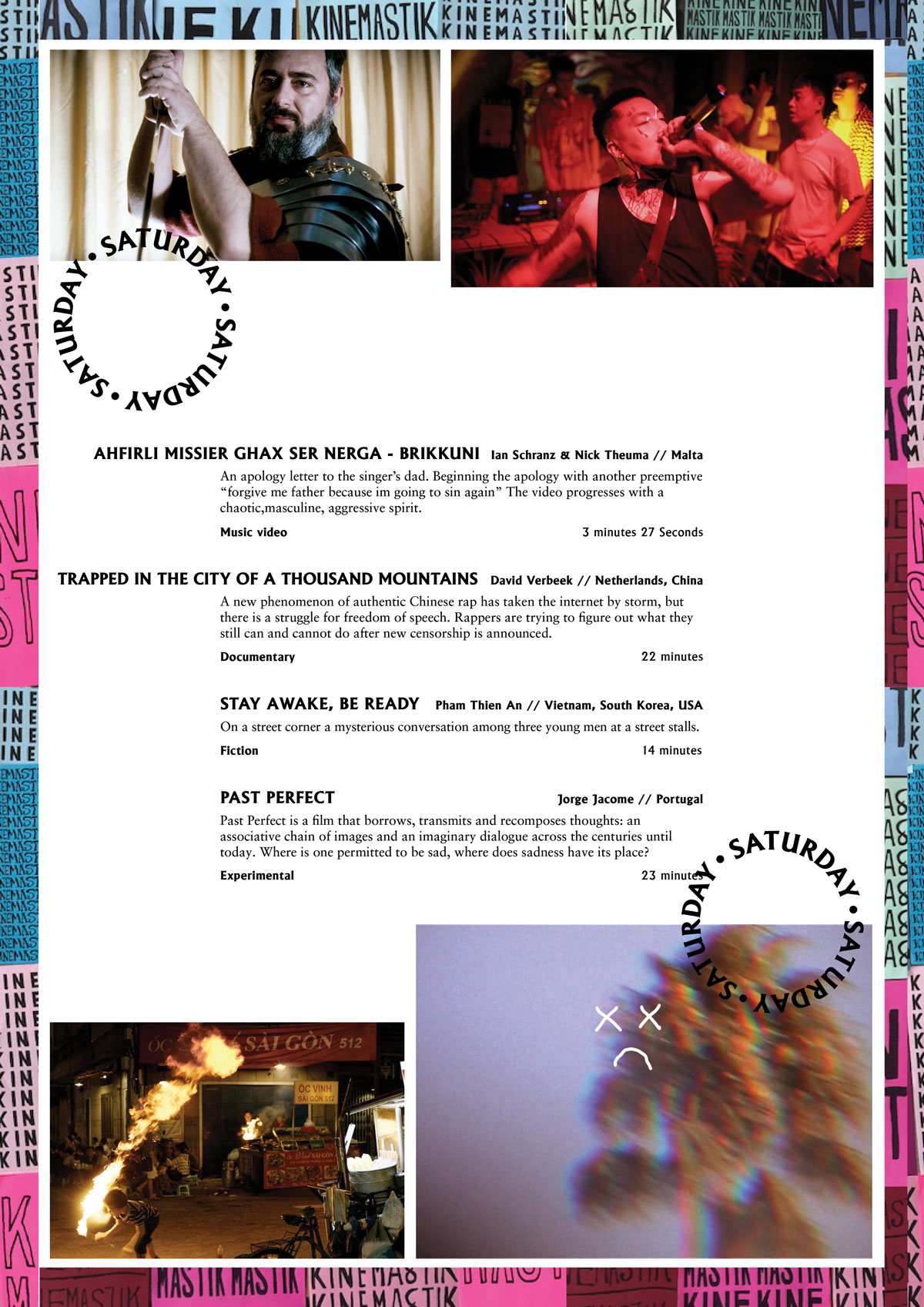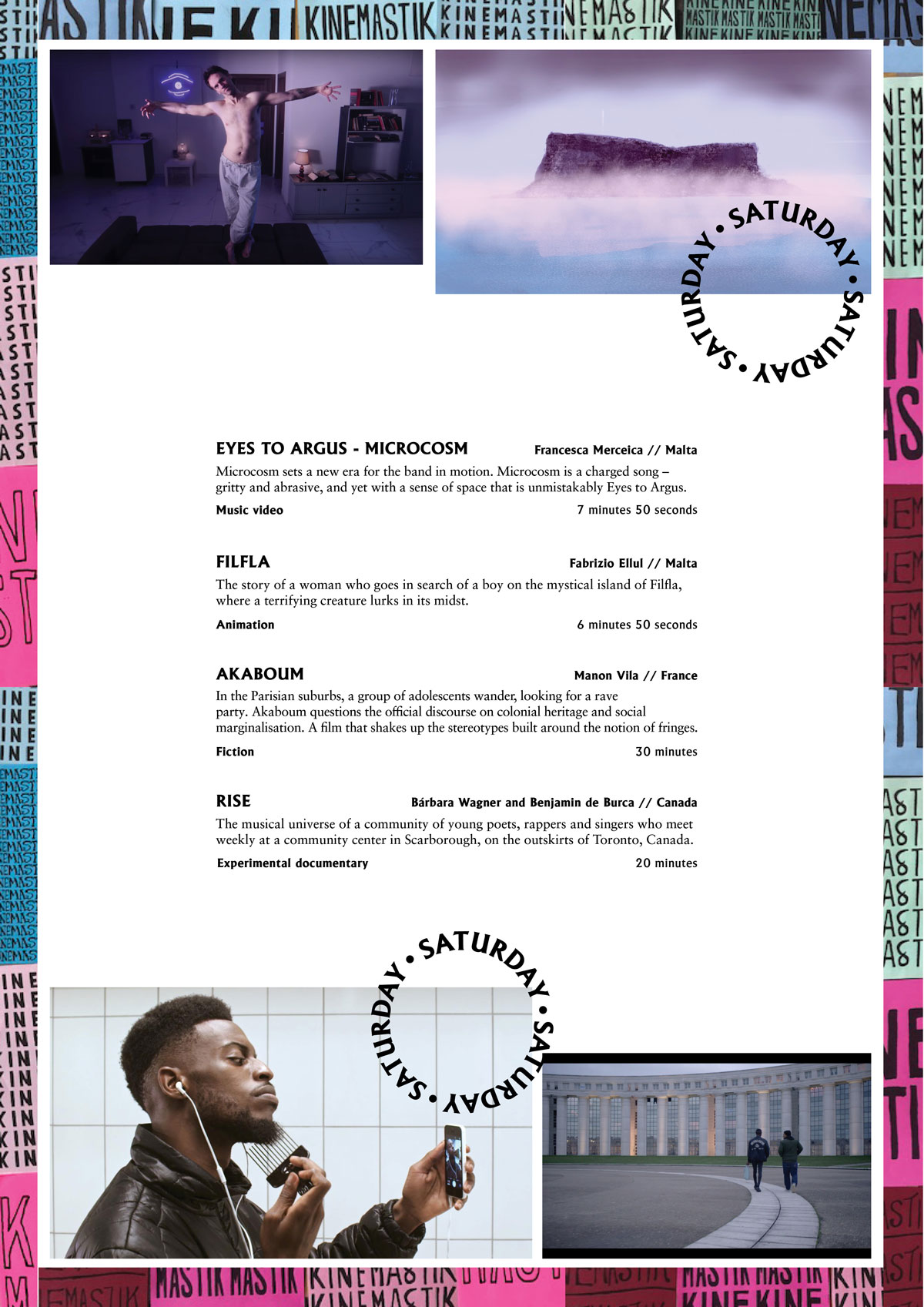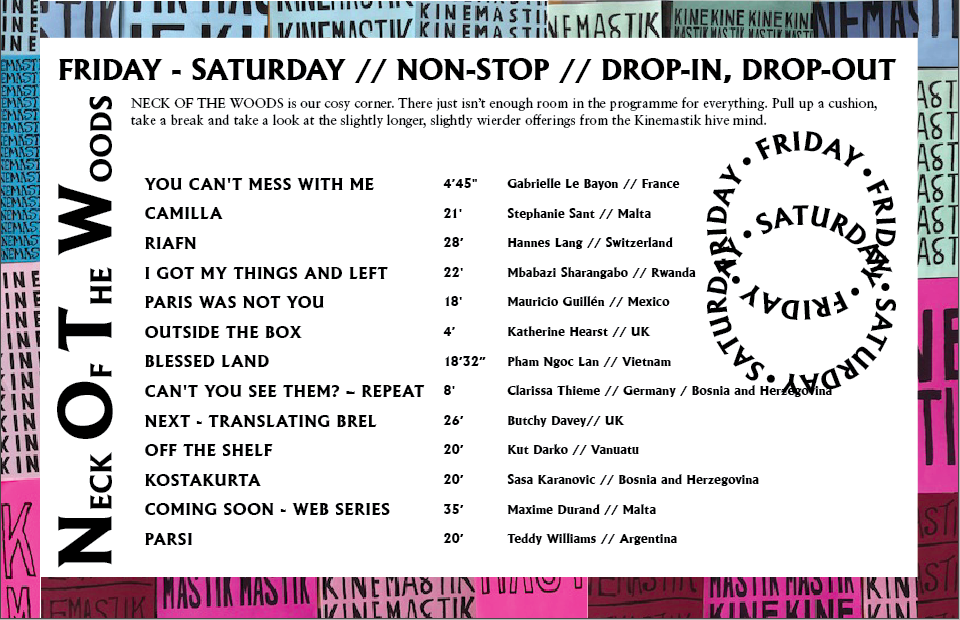 Our 2019 Jury:
Roxman Gatt (b. 1989, Mosta, Malta), lives and works in London. The multidisciplinary artist's work encompasses, text, painting, 3D, video, sound, photography, sculpture, installation and performance. Roxman's research explores sexuality, identity, gender and consumption. Most recently the artist has been working with themes of humanising and interacting with consumer objects. Making the inanimate iconic and fetishised. Mundane aesthetics and the internet become both a tool and a trigger to produce work. Roxman was awarded the Chris Garnham Prize (2015) as well as the Magnum Showcase Online Photography Award (2013). Recent exhibitions include: Up is a Relative Concept, Fold, London, Uk, Perfiction, Harlesden HighStreet, London, UK, Drawings, 650mAh, Brighton, UK, Visions, Programme 3 | Bedwyr Williams, Nunnery Gallery, London, UK, Here & Now, Valletta Contemporary, Malta, MT, The Well, Open School East, Margate, UK, Homo Melitensis: An incomplete inventory in 19 Chapters, Malta Pavilion, Venice Biennale, Venice, IT, The Sacred 419, The Square Gallery, London, UK, Bloomberg New Contemporaries, ICA, London and Bluecoat Liverpool (2016).
Glen Mcleod is a Senior Creative Producer for Grey London, overseeing campaigns for clients such as Volvo, Emirates and HSBC. He has been on the judging panel for the Creative Review Photography Annual and the Getty Images Prestige Grant. He has a passion for film, with an even bigger passion for Twistees and swimming in Xlendi Bay.
Mark Mangion is an artist and independent curator based in London. He has exhibited internationally including the Thessaloniki Biennial, MAXXI Rome and ICA london. He is also the founder of Malta Contemporary Art.
Antonio Tufigno has ever since his earliest days been a lover of all things unnecessary and mundane. A compulsive collector of collections, he is keen on all cultural forms and engages haphazardly in anything mildly interesting.
The human equivalent of a tumbleweed, he will roll and land anywhere there is a human gathering, leaving a characteristic trail of hair along trodden paths.
An avid observer of ants and their social mores, he has however never overlooked the pleasures of displacing cockroaches and beetles from their habitats and studiously observing their reactions to novel spaces and confines.
Our subject enthuses on inner-harbour decadence and records it photographically. He may be spotted later dancing robotically, in very short shorts, between graves.
Lisa Gwen Baldacchino is a curator of words and an editor of spaces. Her work and her projects are the outcomes of these often overlapping and interchangeable roles. After all, either deals with space and its distribution; with aesthetics, design, interpretation and experience. One focuses on words and type, the other on artworks and installations. Both create images and visuals; both deal with narratives.
Besides an innate passion related to all fields of visual art, Lisa loves playing local tourist. She explores sites and spaces, scrutinising the natural, the built and the 'other landscape', through a camera lens.
Lisa has a background in Art History and Cultural Management, and currently works as an Associate in the Strategy and Funding team at Arts Council Malta; she is the founder of the MaltaDoors project.