KINEMASTIK 4th INTERNATIONAL SHORT FILM FESTIVAL 2008
Set in the finest secret location money couldn't buy, Kinemastik welcomed you all once again to the 4th edition of the Gardjola screenings. 2008 was a bumper year for Kinemastik – not one, not two, not three, not four but five cinema based events.
Take a closer look below – there were workshops, panel discussions, screenings, parties and more.
Fireworks go off, cats maul, ships blow their horns but this has never deterred us – in fact we love it!
From Los Angeles, California, Austin, Texas to Milano, Italy we will go, then up into Uppsala, Sweden and back down into Romania, with a slight detour via Denmark, France and Portu-gal, not forgetting that absurd isle of Great Britain – Yes, we at Kinemastik have gone that extra reel to bring you two nights of blinding short films under the summer stars – you can't say we don't spoil you!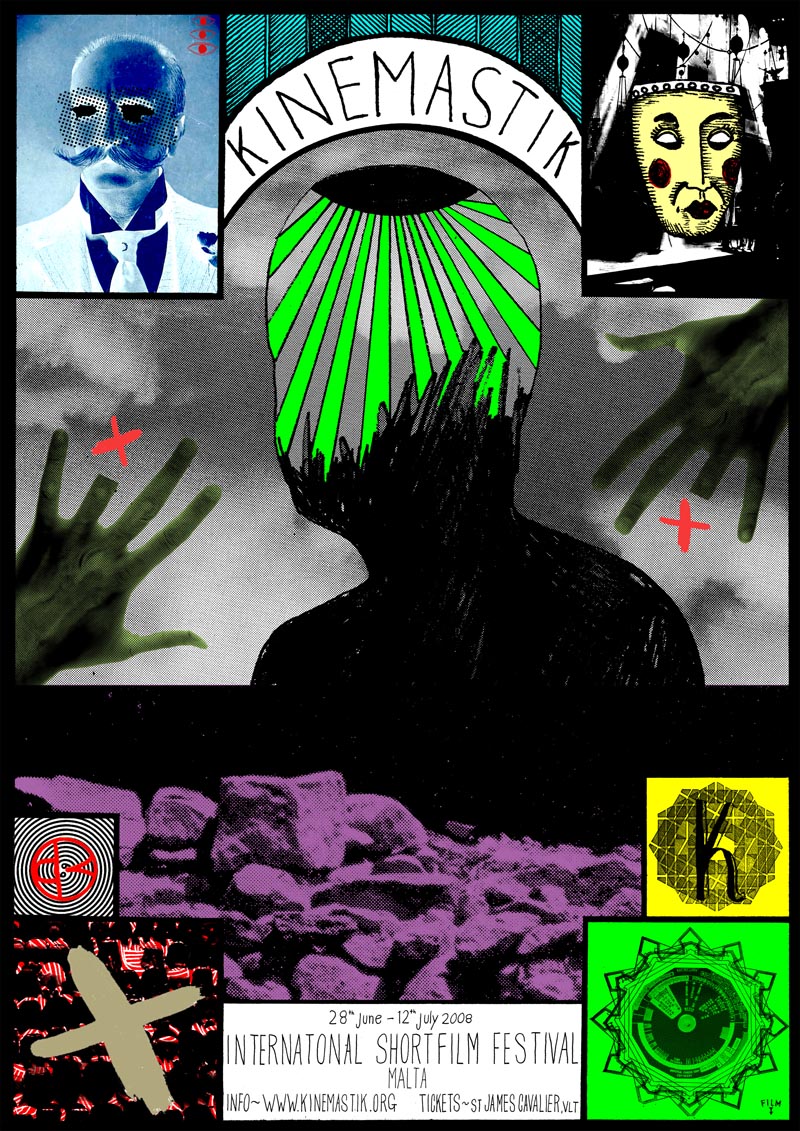 A Word From Our President
The fourth Kinemastik Short Film Fest gathered quite a few beautiful people around it.
It was 2008, 5 years from the beginning of war in Iraq, where hundreds of thousands have lost their lives. With the help of Heinrich Boll Foundation, we have invited a few Iraqi filmmakers, who have gone through a million checkpoints to get out of the country and then fly to Malta. And once they did we partied. The next day we set up a discussion after we showed their films.
A year prior to 2008, which I believe was 2007, we began a conversation with a Serbian contemporary artist Marija Djordjevic about setting up an exhibition in Valletta. With this purpose in mind, we have immediately started preparing for it.
On Monday, 7th July 2008, we have entered the Malta Contemporary Art Museum in Valletta and there it was – the opening of Marija's exhibition that we have organised. Right at the beginning of the fourth Kinemastik Short Film Festival. Incredible.
The next day, we have moved to Red Tower in Mellieha, that someone named St Agatha's Tower. We have set up a series of events there and called it "Fake Agatha's Underwear". It started with a 3 day stop animation workshop by Milos Tomic. That's when we made friends with Adrian Abela and Nigel Baldacchino. Then there was a talk by a Swedish duo Mark Hammarberg and Ester Martin Bergsmark who presented their film "Swallow it". Danish beauty – Ada Bligaard Soby visited Kinemastik for the first time. She showed here film "Meet me in Berlin", the first of many in the years to come. Ada become a true comrade for which we are grateful like grateful dead.
This was also the beginning of something special when it comes to weird and wonderful. Talking about Kenichi Iwasa, Japanese Londoner who has an aunt in Dubai.
Musician, filmmaker, avant guardian of the galaxy.
Lets not forget Mr Andy Gately, from Austin, Texas, who read something about Kinemastik and decided to come on his own accord. He ran an underground film fest in Austin. We have cut our palms and exchanged blood one drunk evening. If you are reading this Andy, I want my blood back.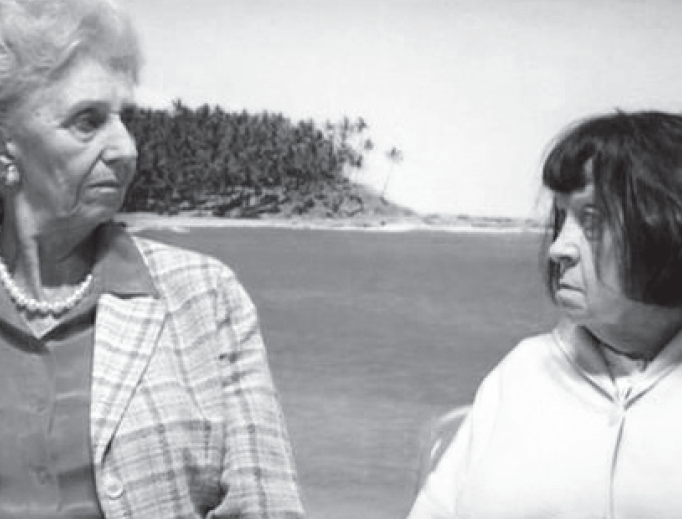 SATURDAY 28th JUNE
SATELLITE PROGRAM:
AKADEMI RULES
The festival's soft opening night – a screening of 13 short films, selected by the European Film Academy in Berlin, Germany. These films make up part of The Prix UIP – an initiative by UIP (United International Pictures) and the European Film Academy in co-operation with fourteen festivals throughout Europe.
There were two sets of 35 mm prints of the nominated Prix UIP films travelling from festival to festival across Europe and beyond, showcasing the diversity within the short film genre. Films being shown have won awards at:
Flanders International Film Festival, Ghent;
Valladolid International Film Festival; International Film Festival Rotterdam; Berlin International Film Festival; Tampere International Film Festival; Krakow Film Festival; Edinburgh International Film Festival; Sarajevo Film Festival and Venice International Film Festival. Akademi Rules was a unique opportunity to recognize and support young and talented filmmakers and to celebrate the diversity of European film culture.
MILOS TOMIC & 10 STOOL PIGEONS 
3-DAY WORKSHOP
Tuesday 8th July – Thursday 10th July
Milos Tomic made a film called Clay Pigeon. It won the Audience Award at the Kinemastik short film festival 2007, so we invited him to give a workshop, and he accepted. Tomic was born in Belgrade in 1976. He is a graduate in film direction from the Art College of Belgrade, where he studied under professor Misha Radivojevic. Tomic is one of the founder members of the legendary circle 'Bumpkins in pudding'; he is a passionate collector and a patient collagist. He has taken part in many film and art exhibitions, as well as stepping foot inside the army. He was also a participant in Rhythm Of Nice Heart, the unique radio-programme on the stalwart independent B92 radio in Belgrade. At this moment, he is engaged in postgraduate ani-mation studies in Prague.
For three days, 10 candidates entered the world of Stop Trick animation. "If you see a normal film as walking, stop trick animation is like dancing," says Tomic.  The Workshop began with Tomic showing various films that were an inspiration to him, and in turn viewing favourites brought along by those attending. After explaining some founding principles everyone was walked through the techniques and possibilities of stop trick animation. The par-ticipants then attempted to make their own pieces, with a little help from Milos, of course. Candidates needed no previous film experience; we have found that enthusiasm usually works best.
BAGHDAD STORIES
SHORT FILM SCREENING
KINEMASTIK & OFFLINE:EVENTS, W/ THE HEINRICH BOLL FOUNDATION
Tuesday July 8th
Ali Bader is one of the most significant contemporary novelists to emerge in Iraq. He and renowned filmmakers Ziad Turkey and Hadi Mahood, who all returned to Iraq post 2003 to document encounters with the changes in their society.
All three were present on the night to offer their insights into the dichotomy of living between home and exile. Dina Fakoussa from the Heinrich Böll Foundation participated in the discussion panel that followed the screening of their short films.
For more information about Offline Baghdad go to:
www.offlinebaghdad.org
FAKE AGATHAS UNDERWEAR
WORKSHOPS & CONCERT
St Agatha's Red Tower
10th July
Like all good things, places were limited.
Our audience took the day off to turn up, drop in, hang out. Kinemastik occupied the Red Tower in Mellieha for a day. The programme went a little like this:
All day long – Hometown Baghdad
Award-winning Hometown Baghdad directed by Ziad Turkey was available for viewing. Hometown Baghdad is an online web series about life in Baghdad. It tells the stories of three young Iraqis struggling to survive during the war. Ziad Turkey was also present at the events for those who wished to know more about him and his work.
2pm: Milos Tomic
Milos Tomic, winner of 2007's Kinemastik Audience Award for his film Clay Pigeon, will conclude his three-day workshop. www.cincplug.com/milostomic/
6pm: Mark Hammarberg & Ester Martin Bergsmark
Meet Mark Hammarberg and Ester Martin Bergsmark – a duo from Sweden who have teamed up to paint revealing and disturb-ing portraits of society. Swallow It (Själv) is a pounding collage of a rotten country in Northern Europe. A middle-aged mother feeds on painkillers and drifts away in the blue light of a solarium. A Masai woman claims to be married to the Swedish King. Some fat kids are burning the Children's Bible. It's funny. It's funny because it's true. They don't mind if their films are fiction or documentary or both. Director Lukas Moodysson loved Swallow It and wanted to be involved in their next project, their feature film debut, entitled Maggie in Wonderland (2008) which was greeted with remarkable reviews. The directors hosted the screening of their film Swallow It (29mins) and delivered some surprise titbits of controversy wrapped up for those attending.
7:30pm: Ada Bligaard Søby
Ada Bligaard Søby from Denmark showed excerpts from her films and talked about kamikaze filmmaking in the North, her awesome super 16 collection and how she met Norman, the actor on crutches (Bligaard Søby's film, Meet Me In Berlin – was screened during WEEKEND SELEKT).
8:30pm: Kenichi Iwasa & Chris Bianchi
Kenichi Iwasa is a multi instrumentalist and founding member of the Japanese avant-rock quartet Miso-Soup. He has worked with Damo Suzuki (Can), The Plastics, Chrome Hoof and Seb Rochford. Chris Bianchi is a founder member of renowned art annual LE GUN, and freelance graphic artist, they collaborated on multiple projections and some 8mm film loops.
9:00pm: New Walking Trio
New Walking Trio are part of a modern quartet music society. Igor Lecic and Igor Malesevic are a part of a modern quartet; they compose, record, produce and play live music that is a fusion of ambient, electronic, experiment, drum'n'bass, nujazz, dub and funk … …and until dawn: Unkle Al. For those who had no skool and plenty of stamina, Unkle Al from Brighton, Kinemastik's veteran deejay (not because he' s old or anything) played some fine records for those who like to linger…until dawn. A bar will provided refreshments throughout the event obviously.
KINEMASTIK INTERNATIONAL SHORT FILM FESTIVAL
FRIDAY 11th July – SATURDAY 12th July
We repeat:
Fireworks go off, cats maul, ships blow their horns but this has never deterred us – in fact we love it!
From Los Angeles, California, Austin, Texas to Milano, Italy we will go, then up into Uppsala, Sweden and back down into Romania, with a slight detour via Denmark, France and Portu-gal, not forgetting that absurd isle of Great Britain – Yes, we at Kinemastik have gone that extra reel to bring you two nights of blinding short films under the summer stars – you can't say we don't spoil you!